About Me
Ah-Ling became a mother 19 years ago. Becoming a mother fueled her passion to become a doula. Over the years, she has helped many other women and children in various capacities, from being an educator to being a direct service care provider. She holds a Bachelors degree in Psychology and studied Counseling in graduate school, and was a Women's Resource Center volunteer for several years. In May 2002, after living seven years in Japan teaching English, Ah-Ling returned to the US when she underwent her Doula training with Doulas of California and Doulas of North America and has been a hands-on Doula since October of 2002. She became Certified as a Postpartum Doula with DONA, and a Certified Lactation Counselor in 2009.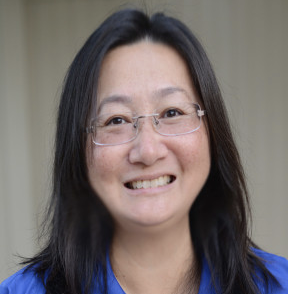 Welcome!
The birth of a child is an amazing and transformative time for the whole family, and as such, the whole family, not just the mother and child, benefits from knowledgeable care and support during this special time. In this regard, as a Doula, Ah-Ling provides the support necessary to navigate through this new and joyous journey. In addition to standard Doula training, she is dedicated in helping families through this incredible transition while respecting their individual parenting choices. Being a Doula allows her to fulfill her desire to help women, children and their families in a personal and nurturing manner.
Ah-Ling has been described by clients as intuitive, calm, good listener, resourceful, having a good sense of humor and as the baby whisperer! She enjoys the beach, hanging out with friends & family. Ah-Ling lives near the Rolando area, not far from San Diego State.
Ah-Ling has experience with: 
 Multiples
 Preemies
 Sleep Coaching
 Breastfeeding/ Bottle-feeding Education
 Sibling Integration
Cesarean Recovery
 Cooking / Meal Preparation
 Working with Surrogate Familes
 Postpartum Mood Disorders